Pop Crimes: The Songs of Rowland S Howard
Posted by
Wally
on 2013-10-31
The Rowland S. Howard tribute currently titled Pop Crimes performed at ATP's Release The Bats this past Saturday, only 2 days after what would have been Rowland's 54th birthday. The line-up included Genevieve McGuckin, Harry Howard, Mick Harvey, Brian Henry Hooper, Jonnine Standish, JP Shilo, Craig Williamson and Tim Howden.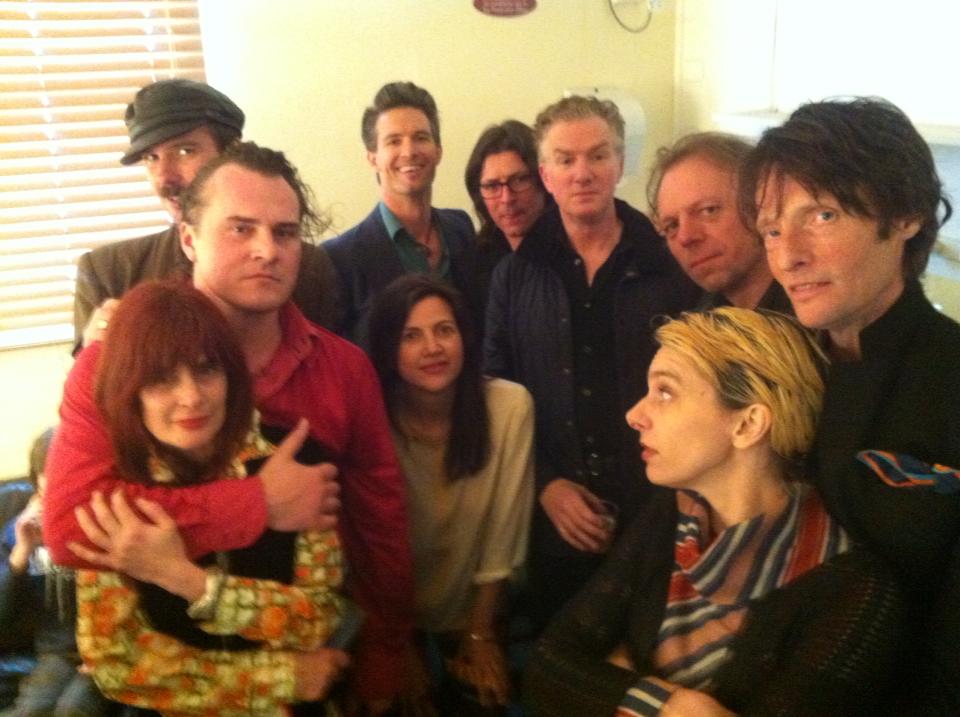 Photo courtesy of Jonnine Standish, shared with permission.




Videos by Debra Mineely
If you have any photos, videos or articles you would like to share, please contact us! In the coming days, we will be adding more content (from this show and previous ones) to the
tribute
page.
---
Rowland S. Howard Laneways
Posted by
Wally
on 2013-10-31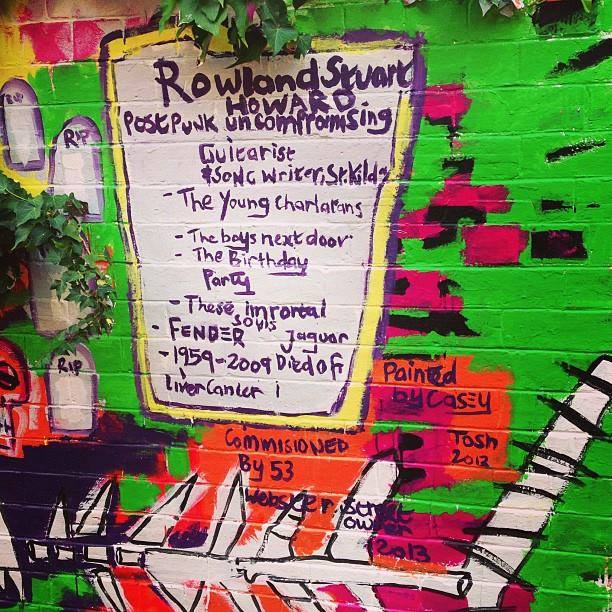 That's right, laneways. Back in September, artist Casey Tosh put the finishing touches on his own unofficial Rowland S. Howard laneway in Ballarat, about an hour west of Melbourne. The mural features a caricature of Rowland, along with former bandmate Nick Cave, and references to his career in music.

The photo to the right was taken by Lou Ridsdale. More info and photos of this tribute can be found here at the web site of Ballarat's local paper The Courier. The unnamed laneway is located off of Webster Street, between Frank Street and Loch Avenue, as pictured on this map by point A.

While the laneway in St Kilda was approved to be named after Rowland several months ago, VicRoads refused to grant an exemption to its rule against full names, offering a choice between Rowland Laneway and Howard Laneway. Nick Haines insists he will appeal this decision.
---
Updates!
Posted by
Wally
on 2013-08-22
First! The Rowland S Howard Tribute Page not only met its original goal of $300, but actually raised more than $500 for the Mirabel Foundation in Rowland's name! Prizes have already been awarded, but the donation page is still currently open for anyone else who would like to contribute. Thank you, everyone!

Second! For those of you who have missed it, the Tribute Page has been holding a series of fan Q&As with Rowland's friends and family. So far, participants include Harry Howard and Genevieve McGuckin! They are currently collecting questions for their next Q&A with Mick Harvey!

You can also find more stories and interviews in their notes section.

Third! Rob Wellington (Little Murders and International Exiles) has constructed a rough history of St Kilda, with a focus on the era surrounding the Crystal Ballroom, which is featured here on the St Kilda Music Walking Tours web site.
---
RSH Tribute Page Charity Fundraiser
Posted by
Wally
on 2013-06-02
During his life, Rowland S. Howard supported the Mirabel Foundation, an Australian organization which supports the needs of children orphaned and abandoned due to parental drug use. He was one of over 30 Australian musicians to contribute to the Rock Chefs for Mirabel cookbook.

In his memory, the Rowland S. Howard Tribute Page on Facebook is currently holding a fundraising competition, the proceeds of which will be donated to the Mirabel Foundation.

Everyone who donates will be entered into a drawing to win prizes, which were submitted by family, friends and fans alike. So far, the prizes are as follows:
Autoluminescent DVD, an RSH tin, and an RSH print

Dogs in Space DVD, a signed Harry Howard & the NDE CD, and an RSH print

I Knew Buffalo Bill CD signed by Jeremy Gluck, an issue of Uncut magazine featuring Nick Cave, and an RSH doll
Donations can be made here. All donations are welcome!
(When donating, please use the name you use on Facebook, so the Tribute Page moderators can identify you if you win.)
---
---