The 100 Best Albums of the 1990s
Posted by
Several Sins
on 2012-09-12
Thanks to those of you who emailed this in!

Teenage Snuff Film has been ranked one of the top 100 albums of the 1990s by FACT Magazine.
---
Cinemania screening of Autoluminescent
Posted by
Several Sins
on 2012-06-06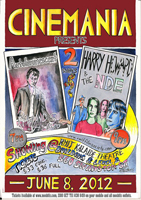 Friday, 8th June, will be the first Cinemania (RMIT Film Society) event:
a screening of Autoluminescent, followed by a performance by Harry Howard & the NDE.

7PM at the RMIT Kaleide Theatre, Building 8, Level 2
360 Swanston St, Melbourne.

Tickets are available at www.rmitfilmsociety.com and give you access
to two months of screening events.

ETA: Tickets will also be available at the door.
---
The Crystal Bowlroom (Pt 2)
Posted by
Several Sins
on 2012-03-04
Footage of four songs from Saturday's tribute at the St Kilda Bowls Club has already surfaced online thanks to Carbie Warbie, including Broken Hands, You And/Or Her, She's Not The Chosen One and AKA. Full setlist was as follows:
1. AKA
2. She's Not The Chosen One
3. You And/Or Her
4. Model Of Youth
5. Cracked Portrait
6. Broken Hands
7. She's Not The Chosen One (encore)


More footage from the entire show, including the tribute to Rowland in full, will be posted soon.
---
The Crystal Bowlroom
Posted by
Several Sins
on 2012-02-19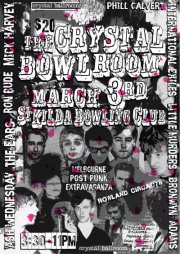 Saturday, March 3, 2012

$20, open at 3:30 at the St Kilda Bowling Club right across the road from the old joint.
4:30 the magical Bronwyn Adams
5:30 Ash Wednesday burns
6:30 Little Murders force you to dance
7:30 Mick Harvey with Phill Calvert and Ron Rude render Rowland songs circa '78
8:30 a clip around The Ears
9:30 International Exiles return

http://www.facebook.com/events/373705115974856/

As well as a tribute to Rowland's early work, the show includes a superb line-up!
---
St Kilda's memory lane
Posted by
Several Sins
on 2012-02-10
IN THE spirit of the central business district's ACDC Lane, moves are afoot to name a St Kilda laneway after Rowland S. Howard, who lived in the area most of his life... (Read more at The Age)

ETA: And more at Mess+Noise.

You can sign the petition here.
---