---
---
The Australian - February 19, 2010
Posted by
Several Sins
on 2010-02-24
The Australian - February 19, 2010
Bad seed
article by Kate Legge
An article on the Hepatitis C virus in Australia which provides some insight on Rowland's condition and the stigma that surrounds the disease. Thank you to Sam Difference, Carla and Paul for bringing this to our attention.
---
Rowland S. Howard Tribute Show in Milano
Posted by
Several Sins
on 2010-02-09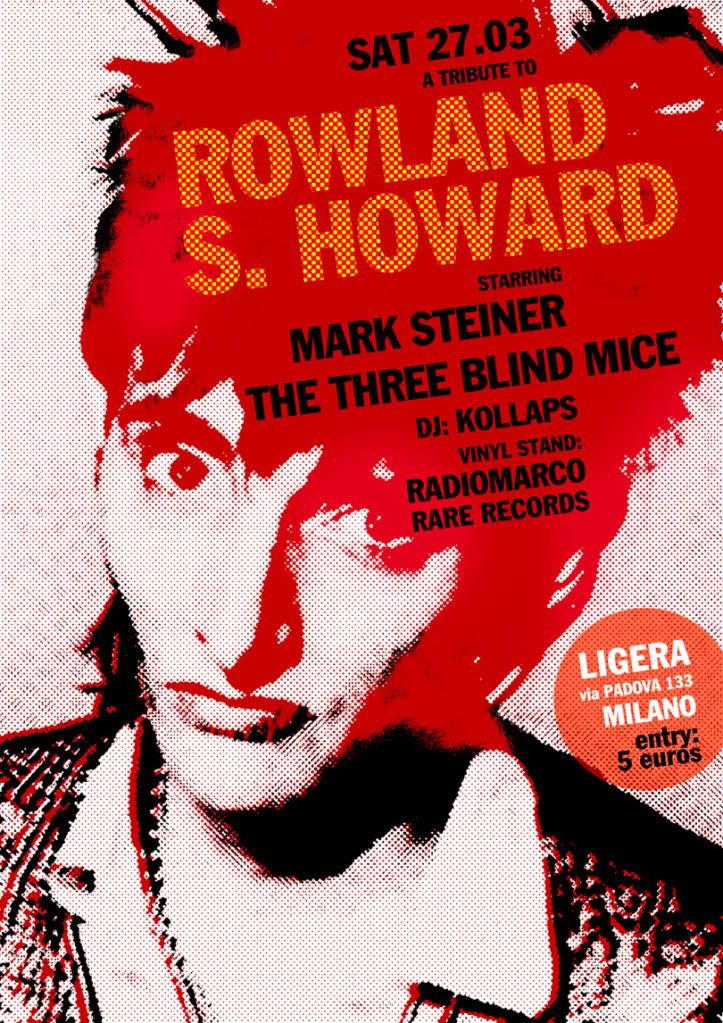 Hosted By: The Three Blind Mice
When: Saturday, March 27, 2010 9:00 PM
Where: Ligera. Via Padova 133, Milano, Milano, 20100
---
Rowland S. Howard Documentary
Posted by
Several Sins
on 2010-01-10
A documentary on Rowland S. Howard is still currently in the works. The project is headed by producer Lindsay Gravina and includes interviews with Mick Harvey, Lydia Lunch, Henry Rollins, Harry Howard, Ron Rude, Nick Cave and more...

L. Gravina, producer of
Teenage Snuff Film, is currently seeking
videos, photos, recordings and stories for
an upcoming RSH doco he is working on.
If you've got any of the above lurking about,
please contact the production company at princeplanet999@hotmail.com
New, working e-mail for Mr Gravina:
princeplanet99@yahoo.com
ETA:The documentary begun by Lindsay Gravina has been handed over to Ghost Pictures. Director Richard Lowenstein and Ghost are now seeking information.
We are putting together a feature documentary on Rowland Howard and we are looking for copies of anything anyone may have on photo, video or mobile phone for use in the film. We will give you full credit for all footage used. Please contact us on:

haze@ghostfilm.net

and we can arrange how to get copies..

cheers Richard ...
---